Axrena is the goddess of love.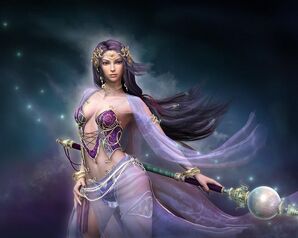 Personality/Appearance
Edit
She often wears revealing clothing to get more men to do her bidding. Her garments consist of purple and gold decorations. She has purple hair and blue eyes, making her more tempting than the solstice itself.
Axrena has the ability to seduce men to become in love with her beauty and body. It influences her to seduce Aaron Hawke, a male she has wanted for quite the while.
Background
Edit
She has 10 children and has been with over 100 men. She will often reveal herself to other men and she has yet to bear 4 other kids.