Chad Wentworth is a 26 year old Human Rogue.
Personality/Appearance
Edit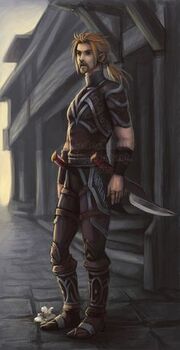 Biography/Background
Edit
Chad works under the "Stealth Corp" as a trainee Rogue. Despite his inexperience, he tries his hardest to impress his trainer, Dana Matthews. He is sought after by many females, although his heart belongs to Dana.
In his spare time, Chad helps his father in his lumber mill, along with his younger brother, Drake.
Abilities
Edit
George Wentworth - Father
Drake Wentworth - Brother